Craftsmanship and Pride | What's Behind Our HVAC Installation?
Mechanical systems are a fine art. And it's no secret that all homes need powerful HVAC.
From heating and ventilation, to air conditioning, chances are you want a trusted partner. You're probably searching for someone with top-quality installation and expert-level service. And to boost comfort, efficiency, and aesthetics, you may prioritize fine art mechanical systems for your fine art home.
That's right—we're talking about state-of-the-art HVAC. This post will help readers understand the craftsmanship and pride behind our installation.
The Power of Planning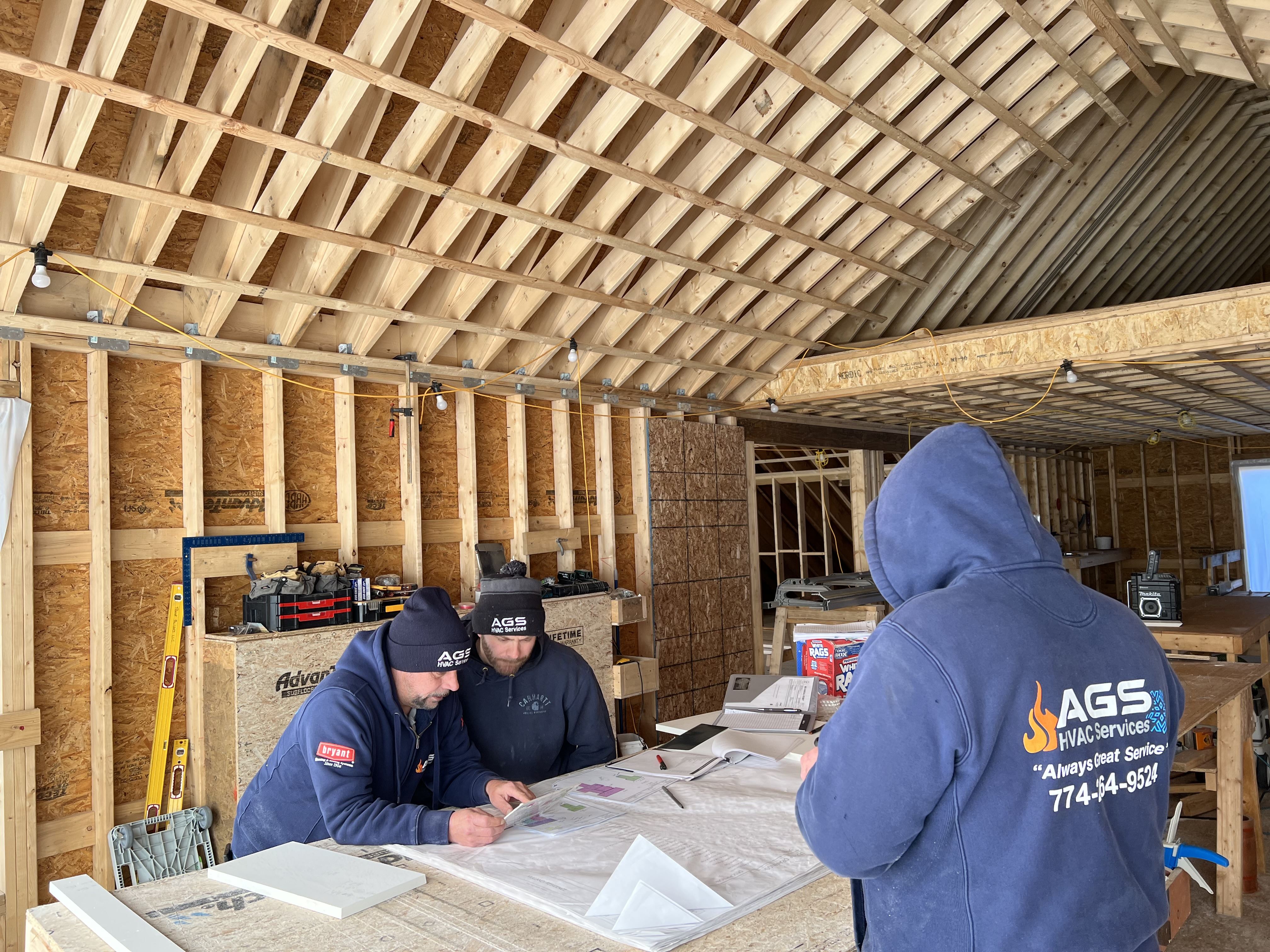 Planning plays an essential role in our installation here at AGS HVAC Services. In fact, each project begins with a coordination meeting where we can determine how to custom-craft the best systems. During this key session, we connect with the architect or property owner, along with any plumbers or electricians involved in the project.
The idea is to maximize performance and quality by focusing on factors such as:
System Design: Our team makes a point of ensuring our HVAC installations meet customer requirements. When designing systems for our clients, we look at factors such as heat load, ductwork size, and vent positions. We want every installation to be neat and functional—like Picasso, as we say.
Energy Efficiency: Our technicians optimize system performance with every project. The goal here is to reduce energy consumption and lower operational costs, all while selecting the most energy-efficient equipment. High-efficiency furnaces and air conditioners, and programmable thermostats, are just the beginning.
Proper Sizing: Oversized or undersized equipment can lead to inefficiencies that go against our quality of work. When planning our customers' projects, we do everything we can to prevent problems like high energy consumption or premature equipment failure. Building size, occupancy, and climate are key factors here.
Zoning and Controls: In the planning stages, zoning strategies help us create areas with their own temperature control. Consider this project, where we pushed for two separate condensers outside the home. With one for upstairs and one for the property's downstairs, we could keep temperatures right where we wanted them.
Careful planning also takes into account maintenance and service requirements. Beyond that, seamless access to equipment, filters, and ductwork can simplify routine maintenance and make future upgrades easy. Our objective is to maximize efficiency while maintaining the highest level of quality.
Intricate Duct Layouts
Proper duct layouts are essential. They ensure air moves to each room or zone, all while keeping airflow and temperature distribution consistent. At AGS HVAC Services, we take things a step further by offering custom ductwork. We have a full fabrication shop for our sheet metal—with our experts Mike Gamache Sr. and Paul Carvalho having worked in this area since high school. Mike Sr. and Paul have generously shared their skills with all of our technicians—and it shows.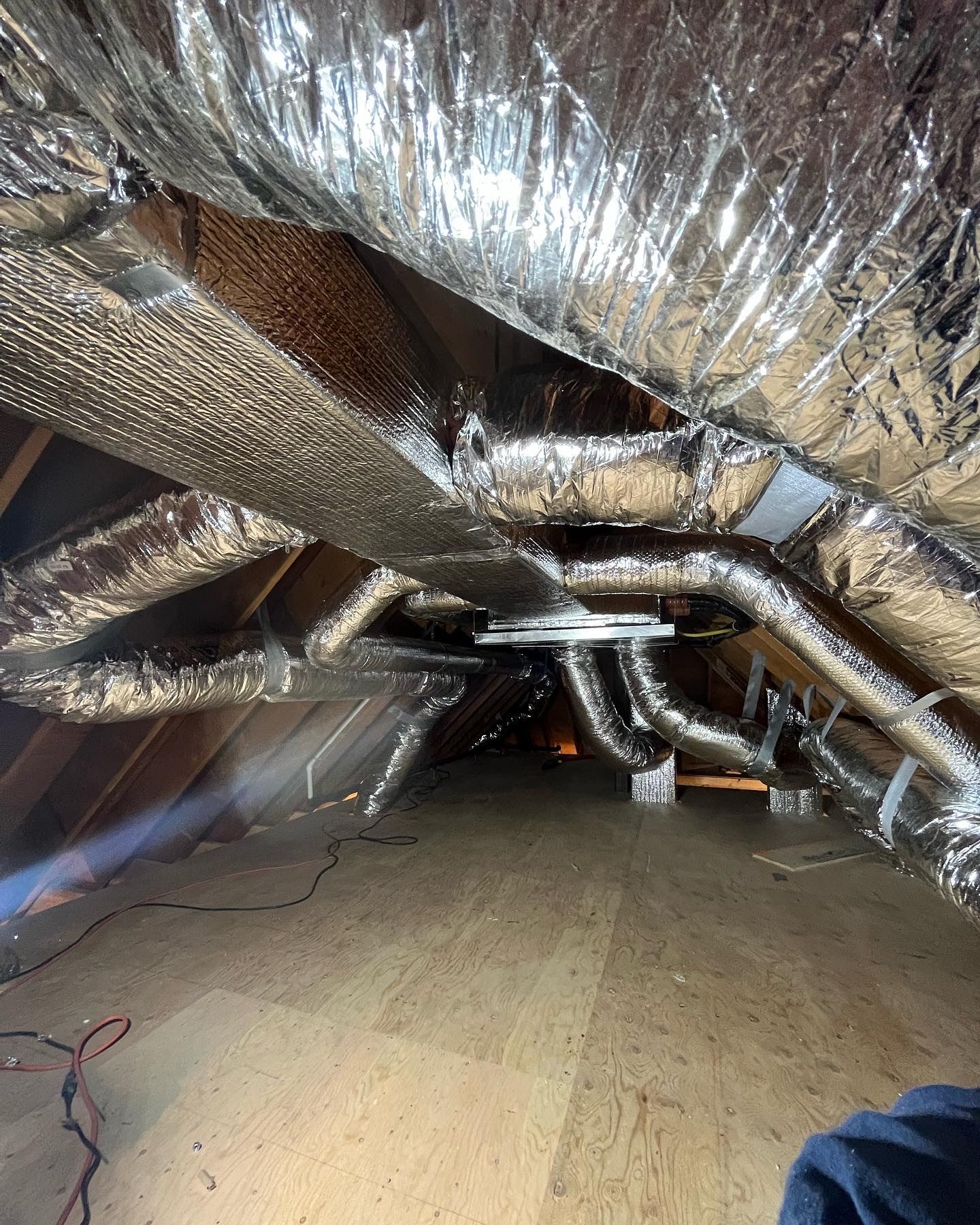 ​
In every project, our team pays close attention to duct layout. By doing so, we exceed clients' expectations and focus on factors such as:
Airflow Efficiency: A well-designed duct layout can go a long way. Our custom layouts reduce pressure drops, restrictions, and obstructions in the airflow path. The goal here is for air to flow smoothly and with the right volume from the unit to the correct zone of the home.
System Balance: Duct layouts restore balance to the HVAC system. The act of balancing involves getting the right air distribution by adjusting the airflow rates in different ducts. This helps each zone access the right amount of conditioned air—restoring comfort to each room.
Noise Reduction: Did you know that a thoughtful duct layout can reduce airflow noise? By choosing the right duct sizes (and by using smooth transitions), we can keep noise levels down. Clients appreciate our ability to create quieter HVAC systems.
Heat Load Considerations
Heat load plays a key role in our team's craftsmanship and installation. This concept refers to the level of heating (or cooling) that needs to be added or removed to maintain the desired temperature. Note that a passive building design—one that works with the local climate—will reduce the property's heat load.
At AGS HVAC Services, we incorporate heat loads into every project. Accurate heat load calculations help us expertly size our heating and cooling equipment—driving efficiencies and reducing energy consumption. An added benefit of calculating heat load is that it helps us maximize the lifespan of our HVAC equipment.
That's not all. By matching the cooling and heating capacity to the actual heat load, property owners can decrease their energy waste—lowering utility bills and reducing their environmental footprint.
Comfort control is an added bonus. Accurate heat load calculations make sure the system can maintain the right temperature and humidity levels in different zones. By accounting for both internal and external heat sources, our installers will make adjustments to deliver the most comfortable conditions.
HVAC Products vs. Results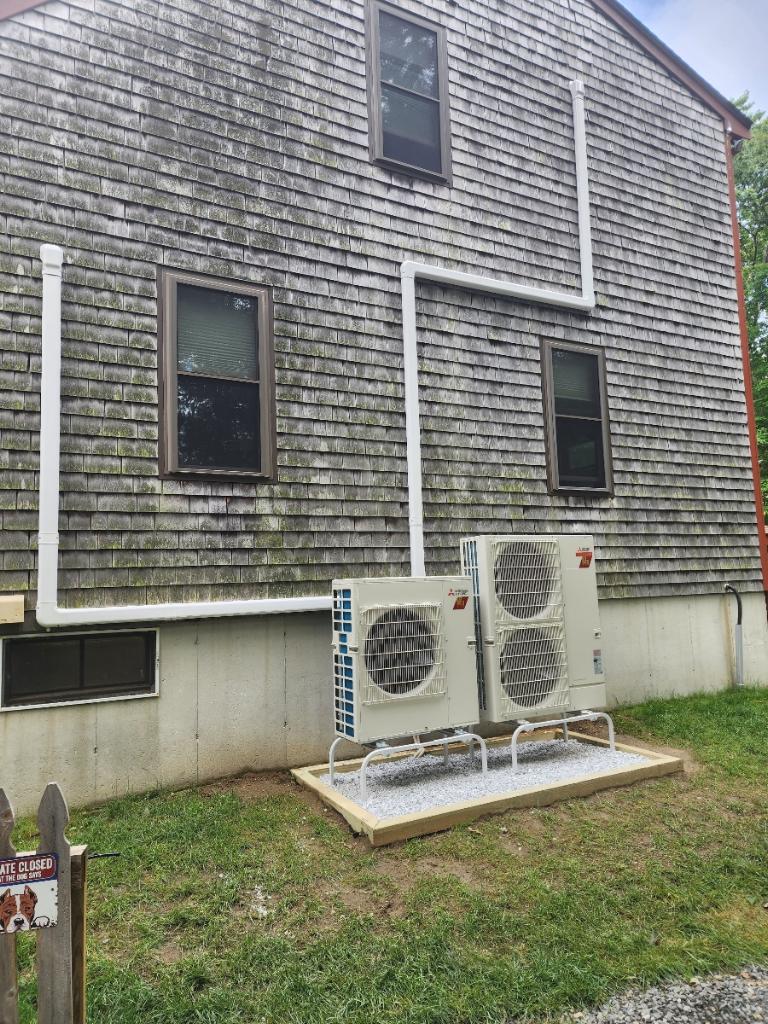 Though our team offers cutting-edge HVAC equipment, we recognize the difference between our product and our installation. We understand that the results we bring make all the difference for our customers.
Just think about it. Even in our region, different HVAC companies could take the same equipment and install it in entirely different ways. As a result, each one would create a different outcome for the customer.
Here at AGS HVAC Services, performance is the goal above all else—and that is a direct result of our focus on craftsmanship. Our expert technicians have the unique blend of expertise and training to deliver top-rated systems to our customers.
And while those systems consist of solid components, our installation is what truly makes a difference. Remember that yellow labels may show our equipment's efficiency in a lab environment—but a SEER rating doesn't say anything about the quality of a provider's installation.
We Take Pride in Our Craftsmanship
At AGS HVAC Service, our high-performing service technicians are skilled in the trade. They care deeply about the results they bring. And this all comes down to their craftsmanship.
Our promise to customers is that each system will work the way it's supposed to. This all comes down to:
Proper planning
Powerful duct layouts
Detailed heat load calculations
Custom, comprehensive installation
To speak honestly, our attention to detail helps us stand out. We never take shortcuts and work tirelessly to install the systems you deserve—the way you deserve. Our company proudly holds the medal of excellence as a Bryant-based dealer. Through this partnership, we offer a 12-year warranty on HVAC units and a five-year warranty on labor. Not only that, but every AGS technician is licensed, NATE-certified, and trained to deliver the exact results you deserve.
If this proves anything, it's that our team puts the results of our product above the product itself. Yes, we offer the latest and greatest equipment—but our installation of that equipment is what fundamentally sets us apart. And in our view, this "fine art" type of thinking has helped us go above and beyond in serving customers.
Meet Your Trusted HVAC Partner
Are you interested in top-quality HVAC installation?
There's a reason that AGS HVAC Service has a five-star rating in the Tri-State Area. Based in Westport, Massachusetts, our family- and woman-owned company has all of your heating and cooling needs covered.
Please contact us to schedule your service today.

Rachel Sylvain CEO