AGS HVAC Services CEO Rachel Sylvain breaks down the difference between repairing versus replacing your air conditioning. When it comes to the comfort of your home, a reliable air conditioning system plays a vital role. 
The summer heat is here, and many customers are turning on their central AC units.
Your unit may have worked just fine a year ago. Yet over time, air conditioners start to need a little bit of work. In most cases, these fixes are simple—but the specifics depend on your unique HVAC situation.
So how should you proceed? Will an easy repair do the trick, or would it be best to replace your air conditioner? This post will serve as a guide for repairing vs. replacing your AC.
How Does Your Air Conditioner Work?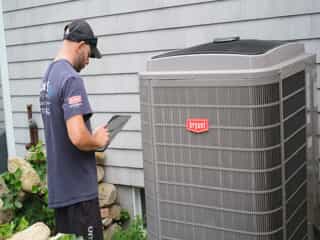 Before we talk about a potential replacement, let's discuss the inner mechanisms of your AC. A typical central air conditioning unit consists of three parts. These parts include the compressor, the condenser, and the evaporator.
The compressor works by pumping coolant between the indoor and outdoor coils. The indoor coil is the evaporator we mentioned above—and it works by taking heat from your property and transferring it to the compressor. The outdoor coil is the condenser, and it gets rid of the heat the evaporator has pulled.
In an ideal scenario, the result is a cool and comfortable home. However, things don't always go according to plan. And if you experience a breakdown, the problem could involve any one of these three components. It could even be related to another part of your HVAC system, like the blower of your furnace. This makes deciding whether to repair your AC unit a nuanced but important decision.
When Should You Repair Your AC?
If you're thinking of fixing a broken air conditioner, you're not alone. But you might not be sure whether to repair your unit or buy a new one. If you're trying to figure out how to get the most bang for your so-called buck, consider the simple formula we tend to use.
Multiply the age of your AC unit by the total cost of repairs.
If that number is higher than 50% of the cost to replace your unit, you're probably due for a new air conditioner. Conversely, if your system tends to perform well—or if it's under 10 years old—then you may be okay opting for a fix.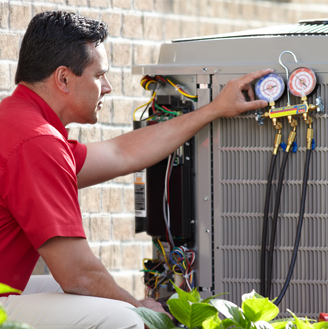 When Should You Replace Your AC?
If you receive a costly repair estimate, it may be time to get a new air conditioner. This is because there's generally a reason you receive a high bid, and it means your equipment is approaching end-of-life. According to ENERGY STAR®, a significant portion of AC units over 10 years old are due for a replacement.
Fortunately, replacing your central air conditioner comes with a number of benefits. Most newer units are more efficient and quieter than their older counterparts. Plus, you may be able to move a brand-new air conditioner to a better part of your property. Buying a new AC unit will also give you the opportunity to address other parts of your home's HVAC system.
That's not all. Upgrading your central air conditioner will give you peace of mind. Instead of stressing over problems that may worsen—or multiply—over the years, you can replace your air conditioner and start fresh. After all, many units come with labor and parts warranties. This means that for as long as those warranties last, you won't be on the hook for another hefty repair bill.
Meet Your Trusted HVAC Partner
Is your central air conditioner due for a repair or a replacement? There's a reason that AGS HVAC Service has a five-star rating in the Tri-State Area. Based in Westport, Massachusetts, our family-owned, woman-owned, and veteran owned company has all of your cooling needs covered. Please contact us to schedule your service today.